News
News
Setting Out Participants 2016 Revealed
A lifelong interest in dance and music fuels Emily Bedford's interest in expression and communication. Emily began learning jewellery and silversmithing in 2005 after completing a City and Guilds in silversmithing and enamelling at Sir John Cass. She immediately received commissions and went on to supply galleries in Japan, Ireland and the UK before taking up further City and Guilds in 2013. Emily Bedford Jewellery was officially relaunched as a fine jewellery business in 2016 at The Goldsmiths' centre. Her work is characterised by an organic quality with a natural fluidity which expresses her imagination. Resins, enamels, gold leaf, artist's pigment, tsavorites and diamonds all express her love of colour. As a Setting Out participant Emily aims to develop her work further for expansion in Europe and the U.S thereby raising her profile whilst simultaneously working on some one–off art jewellery pieces.
Adult Learner and Business Award
In 2014 I received an adult learner award at the City lit. I then went on to receive the Regional Award (London and the South East) specifically for turning my learning into a business.
| | |
| --- | --- |
| Featuresd in the local paper Ham & High. | Featured in Proffessional Jeweller magazine. |
Maker in Residence Award
Receiving an award for a year of being a 'Maker In Residence' at the City Lit in 2014.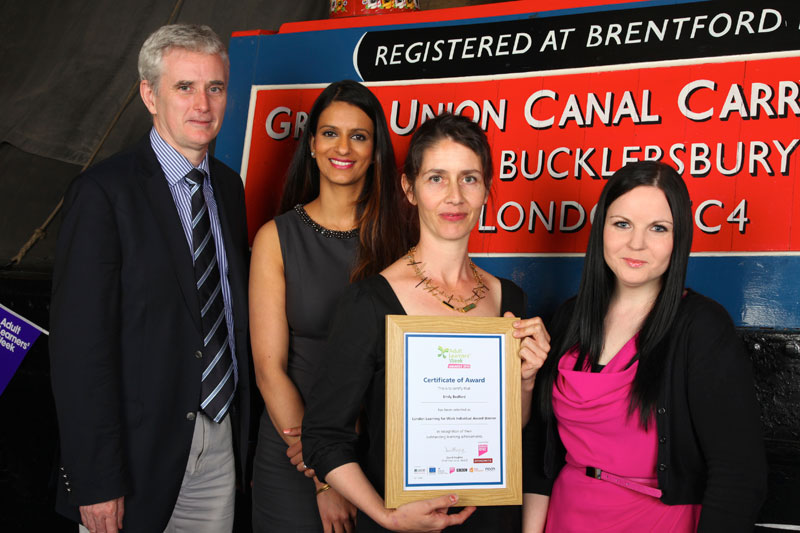 Frida Ring
In 2013 my 'Frida Ring' won the award for overall most successful piece at the end of a year City and Guilds qualification (2nd from right), judged by Liz Olver (3rd from left) the designer at Annoushka Jewellery.